Post by purple18 on Mar 12, 2018 9:40:48 GMT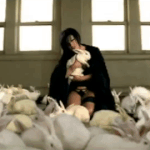 Aww, he's such a cutie! Be happy he doesn't react on your rages

But this is exactly what I felt happened to me too! Remember I told ya I stopped taking the stuff and felt like things got 100 times worse? Or maybe it's something that just comes with age? I hope you'll find a way to handle this PMS. What I do when I feel it coming is that I try distance myself a bit from everyone. Like not to be too close and too "emotional/open/deep" like I usually am. Just scratching on the surface if you know what I mean. That's my way to prevent myself from blowing up in front of people. I can get so frigging annoyed even if someone calls me during this time. It's horrible. Also I can get a feeling that I'm the worst and most horrible person in the world as if I killed someone - but I know it's just temporary and passes, but it feels so real and I think that's when I usually cry without really knowing why, haha. It's fucked up. How often and how long do you have your PMS?
yeah i remember we talked about it earlier and that yours is very bad too. i do think it is because of stopping the pills and the hormones kick in. i am the same, when my phone rings i get so enraged i need a few seconds to calm down
my way of dealing with it is having as much "alone time" as possible, kinda also distancing myself from people. and i apologize for my behavior all the time but sadly only after shouting at him for putting his mug in the sink instead of the washing machine lol. every little thing feels like a tragedy and i feel like i cannot cope with everything that's coming up. so yeah i can relate 100% to what you are saying. i just need a cave to be alone, a ton of chocolate and a few good books
mine lasts for about 4 days right before my period. during my period i am okay emotionally, then it is more challenging physically because even plucking my eyebrows hurts like a bitch and i get cramps but honestly in my case it is better than being the biggest bitch in the world.
not easy being a woman, huh? hope you manage to find a way to cope with your PMS it is annoying when it interferes with your life.